Popular decision COP26 for climate justice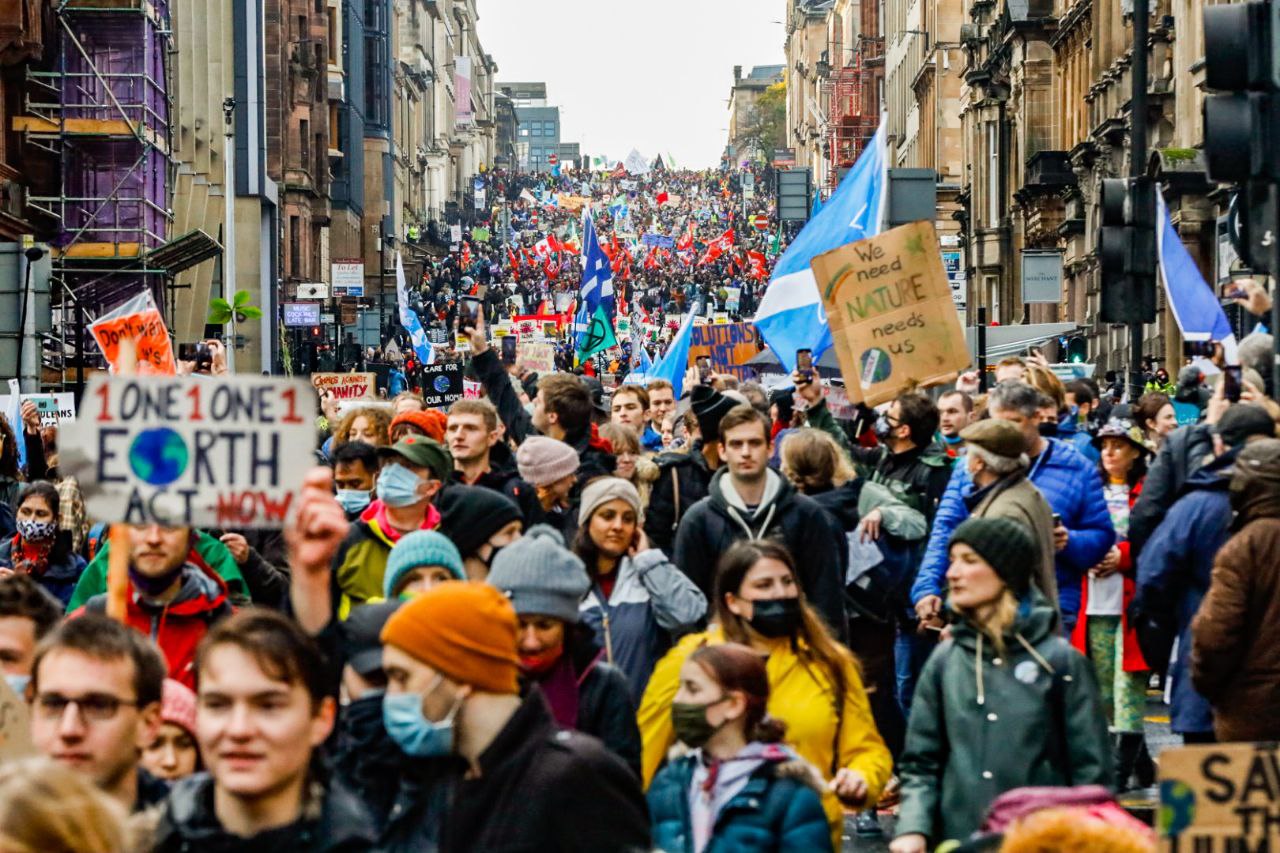 As the COP26 meeting comes to a close in Glasgow with a final agreement that was widely denounced as insufficient to prevent the planet from exceeding the 1.5 ° C change that scientists have recommended as a target to avoid total devastation by the end of the century, the Civil Society Coalition COP26 published their statement which Pressenza republishes below for our readers.
Climate change is already having an impact and threatening billions of lives, with billions more at stake: it is those who have done the least to bring about climate change who are most affected, especially women, black people, indigenous peoples and people of color, peasants and rural people. people, youth, people with disabilities, local communities and frontline communities.
The climate crisis is also amplifying the structural inequalities and injustices that have been ingrained in our economic and political systems that have resulted in a spiraling debt crisis, the apartheid of the Covid vaccine and increasing inequality and poverty.
Governments of the UNFCCC have repeatedly failed to achieve meaningful and fair results that would keep global temperature rise below 1.5 degrees Celsius despite the growing urgency: time is running out.
The countries of the Global North have the greatest historical responsibility for emissions and have enriched themselves over centuries of colonization and exploitation of the communities and nations of the Global South. These countries, including the United States, Canada, United Kingdom, Australia, Norway, Japan and those in the EU must finally do their fair share to tackle the climate crisis and pay their climate debt. without delay.
Throughout the existence of the UNFCCC, governments have moved from politics to empty promises, to press releases and proclamations made outside of the negotiating process that mean they cannot be held accountable for failing to not respect them. "Net zero" commitments without concrete plans to achieve Real zero emissions, without adequate legally binding commitments to protect human rights, are nothing but greenwashing, a smokescreen hiding the intention to continue to pollute and to dig the graves of our present and future generations with impunity.
People are tired of waiting for governments to prioritize people and the planet over profits when so many lives are affected and lost. We are running out of time and patience.
We therefore demand:
Northern countries pay their climate debt:
They must do this by providing new and additional short- and long-term financing, based on the needs of the peoples of the countries of the South, balanced between mitigation and adaptation. The immediate first step is for these countries to mend their broken commitment to provide the $ 100 billion shortfall in public finances by 2020.
Achieve a global goal for adaptation:
And quickly increase adaptation funding based on the needs of those most affected.
Tackle climate injustice and pay for loss and damage:
The delivery of additional financing for loss and damage as needed is carried out and honored. The Santiago Loss and Damage Network must be operationalized by COP27 at the latest.
Urgently deliver your fair share of action:
Governments must ensure that their emission reduction targets are sufficient to meet the 1.5 ° C target by urgently stepping up the 2030 targets to quickly reduce emissions to Real Zero, fully in line with the fair share of each country.
Reject false solutions:
Governments must categorically reject false solutions and "net zero" plans that conceal intentions to continue polluting. This includes offsetting, carbon markets, carbon capture technologies, nature-based solutions, geoengineering, climate-smart agriculture, and others that are inherently inefficient, unfair, and destructive.
No compromise on human rights:
Governments must deliver on the promise of the Paris Climate Agreement and ensure that these rights remain at the heart of the outcomes of COP26, including the rights of indigenous peoples, the rights of peasants, gender rights, rights of people with disabilities, workers' rights.
Big polluters removed from this process:
Parties to the UNFCCC should formally and permanently withdraw big polluters from deliberations where they constantly undermine, weaken and delay meaningful policy outcomes. And develop lines of responsibility for polluters to make them pay for the crisis and repair the damage they have caused.
Offer fair transitions:
The parties must ensure fair transitions as defined in the Paris Agreement with reference to decent work and quality jobs. Labor rights are human rights and countries must ensure the full engagement of workers and their unions through social dialogue processes to increase climate ambition and the creation of decent jobs, quality jobs, social protection and universal public services.
Cooperation and solidarity
A transition to justice must also mean working together to quickly share technology and finance to implement real, proven, people-centered solutions at scale. This must involve "phase-out" to fairly phase out fossil fuels from the global economy in time to limit warming to below 1.5 ° C, with developed countries taking the lead in a swift and fair phase-out. production of fossil fuels, while supporting developing countries. countries to do the same. It also requires the transformation of energy and food systems that empower people and communities, ecological restoration and food sovereignty. It is vital that these transitions honor and protect the traditional knowledge, practices and territories of indigenous peoples and local communities.
Do not exclude the People:
Prioritize an inclusive, democratic and fair UNFCCC process that recognizes and respects all rights holders. This requires the meaningful inclusion of people with disabilities by recognizing them as a formal constituency.
The time for words without action is over. We no longer have the luxury of sitting down and letting governments and private interests destroy our future. Scientific predictions are increasingly dire; it is no exaggeration to say that the very future of mankind depends on the results of these negotiations. Governments must immediately heed the growing demands of those already facing a crisis and those who will face a crisis and courageously re-imagine our world in a way that guarantees everyone the right to live in dignity and harmony. with our planet.
The era of injustice is over!